Digital Marketing Strategy for Tourism: 5 Point Checklist of Areas You Need to Have in Place
Posted on Wed March 2, 2022.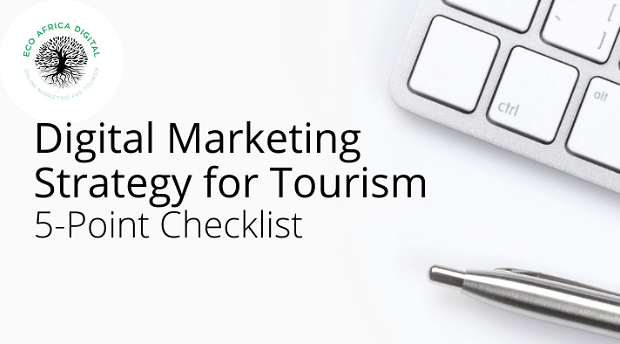 Whether you are the owner of a small boutique hotel, or the marketing manager for a large group of safari lodges, the main question around digital marketing strategy for tourism remains the same: Is my current marketing strategy optimised for the tourism industry, and do I have everything in place to drive as many as possible direct, online bookings via my website, at the highest possible ROI? To guide you through these questions, we've put together a checklist of best practices in digital marketing strategy.
Digital Marketing Strategy for Tourism Checklist
To guide you through your strategy process, we have created a 5-point checklist (with details under each) that is crucial for your digital marketing strategy to be effective for the tourism industry. These are:
1. Develop your digital assets
2. Optimise your SEO
3. Run Google Ads / PPC ads
4. Use social media management
5. Run social media advertising campaigns
Now that we know what the key areas are that you should consider, let's look at each of these in a bit more detail:
1) Develop your digital assets
In the digital marketing arena, your assets consist of a) your website - which is a place where people can find you, b) a possible drip-sequence - which is an automated way to follow up with your potential customers, and c) your photos, videos, and graphic design - which help you make a good first impression.
At Eco Africa Digital, we often refer our clients to Springnest websites for a cost-effective and user-friendly option to self-manage your online content. For more advanced needs, we work with our team of web developers to bring to life something truly magical and effective.
2) Optimise your SEO
SEO can be likened to a shopping mall. It contains the products that people are looking to buy. Therefore, it is important to stock the products (or keywords) that potential buyers are looking for. If you are trying to sell a "bush and beach" package, but your whole website is indexed with the term "safari and sea", most consumers will never find it. To make sure this doesn't happen, focus on:
a) Keyword research: use Google Keyword Planner for variations of the terms you intend to use, plus the average amount of searches those terms get from the areas your ideal client is located in.
b) On-page SEO: implement the keyword selection from your results above onto your meta titles, your URL, the H1 and H2 headers, your ALT tags on images, etc.
If everything is set up correctly, Google will now be able to crawl and index those pages on your website.  Remember however that on-page SEO like this takes about 6 to 12 months before your website will start ranking (appearing in the top 100 search results for that keyword term, which is roughly up to page 10).
This is a crucial step in your marketing. However, 6 to 12 months are usually too long for businesses to wait to appear in search results. Therefore, in the next step, you should consider Google Ads / PPC Ads in your digital marketing strategy.
3) Google Ads / PPC Ads on search engines
If SEO is like a shopping mall, then PPC is like having the corner shop right in front of the escalator - the prime space that everyone sees first.
When you pay Google to appear on the first page of people's search results for a certain keyword term or phrase, you don't have to wait 6 - 12 months just to start to get noticed. Your costs here will be influenced by your competitors - if many businesses are bidding against each other to appear in the top results for a keyword or phrase, the bids (cost per click, or CPC) go up.
Here are steps to follow to set up a successful campaign:
a) Keyword research: As with SEO, start with Google Keyword Planner to choose keyword terms and phrases popular in the locations where your ideal customer resides. Some countries may prefer terms like "honeymoon safaris", while others tend to search for "romantic holidays in Africa". Choose the one that makes the most sense to your ideal audience.
b) Create quality ads: To keep your costs per click low and to drive more traffic to your website, make sure your ads match up with the content on your website. Make sure the keyword phrases you aim for appear in your ad headings, in the descriptions, as well as on the landing pages you are directing traffic to (the URL, the metatags, the ALT tags on images, the title, as well as the H1 and H2 headers).
c) Simplify your landing page: Make sure you have one strong call to action, like "Book Now" or "Enquire Now," so as not to give your visitors too many options to get distracted. You want to make sure they follow through right till they have given you their contact details to either book or to retarget them in the future.
4)  Use social media management
If you are still unsure whether your brand should be on social media, the short answer is, YES. Why? Because with over 2 billion users on Facebook, your potential clients are definitely there too. Remember however that if SEO and PPC can be likened to focused shoppers in a shopping mall, the intent on social media is different.  Scrolling through social media is like going to the beach or strolling through a park. Your potential clients are in the mindset of chatting to friends, family and celebrities about what they are up to. They aren't in the mindset to buy a product or even a vacation.
To make your social media presence work for you, remember the following:
a) Inspire to dream: Use your social media to plant a seed for potential future travel so that your product is top of mind when they next start to plan an escape. Show off a wide range of the best aspects about your brand and how other travellers are having an amazing time at your location.
b) Quality media: Use high-quality images, videos (even short ones) and graphic design (less is more) in order to shape your brand as a quality product. Alternate it however with in-the-moment content generated by your guests.
c) Show the complete experience: Make sure your social media account's feed covers all the aspects of your offering, alternating your timeline with content around your activities, food, hosts, guides, wildlife, landscapes, sunsets, guests, drinks, rooms, gardens and pool.
d) Content focus: Make sure your content is either educational, entertaining, or inspirational. Emotion is key on social media. Aim to tell a story that your audience can relate to (so make sure you know who your ideal client is). For content ideas, take a look at our Social Media Content Ideas for a Year.
e) Quotes: Share quotable quotes on the value of travel to enrich life, specifically in your location.
When you tick all the boxes as indicated above, people will regularly 'Like', 'Love' and 'Share' your content. Subconsciously, they then also start to 'Like' and 'Love' your whole brand. In this way, trust is built, and your social media audience gradually becomes more likely to consider and book with you the next time they want to get away for a holiday or weekend.
The hard truth, however, is that even with high-quality social media content, you will never reach a high volume of people organically. This is unless you post a few times per day, especially Stories, Reels, and videos. Doing this can get super time- and effort-intensive if you have to keep it up over months and years (which is what you will have to do to keep organic interest in your brand). The social media platforms' algorithms have changed over the past 10 years, up to a point where at the moment, your brand won't get far without paid social media ads. The good news is that with a proper social media advertising strategy, you can get very far to drive bookings.
5) Use social media advertising
Remember that social media is not like a shopping mall, but more like a beach or a park. So running social media ads can be seen as having a stand at the beach or at the park. People aren't intent on buying from you when scrolling around on social media. So you may get some eyes on your stand, but instead of going for too much of a hard sell, rather try to gather leads that you can follow up on later by creating an ad that provides value first.
a) Create value first: Consider what your ideal audience may have a need for: if you are a safari operator with lodges across Eastern and Southern Africa, your potential customer may have a need for a free download on "Ideal safari experiences in Africa for every month of the year". In this download, you can add recommended lodges with links to book for each, which may lead to enquiries. If you are a boutique hotel in Cape Town, your potential customer may find it useful to exchange their email address for a free download you created called "Our Top 10 selection of restaurants in Cape Town - plus a 20% discount at each". 
b) Use strong headlines, copy, and descriptions that are clean and to the point. This will give your ads the punch it needs in the few seconds you have to get your potential guest's attention.
c) Use emojis to capture emotions. Remember people are in a playful mindset on social media.
d) Build high-performing audiences:
Send lead-driven ads only to warm audiences (those audiences who already know your brand, have heard about it, have been to your website, or who appear in your list of previous guests). Warm audiences like these perform 10 times better than cold audiences. These types of audiences can be created on Meta Business Manager.
Build high-performing cold audiences, called "Lookalike audiences". These audiences are built around groups with similar online behaviour and interests to your warm audiences.
Summary
Implementing and developing these 5 key areas of your digital marketing strategy will make sure you are on your way to optimising your digital marketing spend, increasing your direct bookings, and getting the best possible ROI:
1. Develop your digital assets
2. Optimise your SEO
3. Run Google Ads / PPC ads
4. Use social media management
5. Run social media advertising campaigns
As with most things, there are a lot of nuances and technical skills needed for your digital marketing strategy to reap rewards. If any of the areas listed above, or combining all five, seems daunting to you, we recommend hiring an experienced agency or consultant to guide you through this uncharted territory for your brand. Experience is key here, as the lack of it will just end up costing you time, money, and frustration. Your digital marketing strategy specialist should be able to guide you on your next steps and be able to predict outcomes based on that strategy.